5 Things to Consider When Moving Across Canada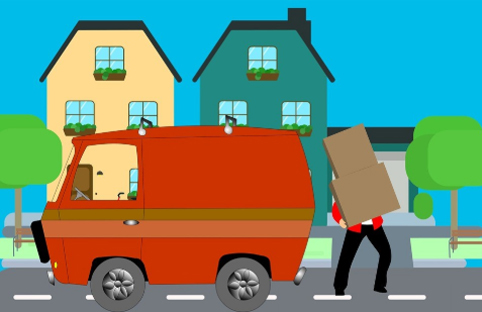 Boxes littered everywhere, some half empty, others overflowing. You're standing over a huge pile of personal items, trying to decide whether or not to take along the itchy sweater grandma gave you last Christmas. You've never actually worn the thing but you're too sentimentally attached. You can't make up your mind and slowly, your stress levels begin to rise.
Moving of any kind can get overwhelming very fast. Whether you're moving your business to a new location or looking to experience life in a new city. Little things like what to take or not take along can suddenly become a humongous task!
We've put together five helpful tips to help make your move as stress-free as possible. Check them out:
1. Create a Checklist
One of the most beneficial things to do before moving out is to create a checklist. It's already been established that moving can become very overwhelming. That's why organization is everything. Creating a checklist allows you to manage time and tasks very easily. With a checklist, you can breakdown tasks into manageable bits.
For instance, one seemingly small task if you're moving across country would be finding affordable cross country movers in Canada. A simple search of "Cross Country Movers Canada" or ""Long Distance Movers Canada" on the internet would bring up a long list. You can then chose which best suits your needs.
2. Get some help
Moving is a herculean task for one person. So it's always great to have a helping hand or two. If you're lucky to have close family and friends, you might want to enlist their help during the move. Make sure you inform them on time to avoid disappointment.
On the other hand, if you don't have any family and friends available to help, you could pay for professional moving services. If you're moving a business, you would want to search for business movers in Canada. If you're moving from one Canadian province to another, you'd want to go with the services of long distance movers in Canada.
3. De-clutter
Trying to move every single thing you own might be a mistake. Especially if you consider transportation costs, packing time and storage space. To avoid this mistake, you need to de-clutter your home first before moving.
The best way to de-clutter is to take an inventory of items in home. This might seem like a waste of time but it will come in very handy when you're trying to decide what to take along or not. You can make extra cash by organising a yard sale for items you aren't taking along or gain some goodwill points by giving them away.
4. Budget
Moving can be very expensive. If you don't lay out a budget from the onset, you could find yourself spending thousands of dollars above your preferred cost. If you're self-moving, you want to ensure that you have a well laid out plan – from costs of buying packing supplies to renting a large enough van.
The other option would be hiring the services of Long Distance Movers in Canada. Most Canadian moving companies offer various service levels to fit different budgets. Hiring the right moving company would require some research and comparisons to ensure you get the best hands.
4. Avoid these Costly Mistakes
We all make mistakes but some mistakes are more expensive than others. Moving mistakes could not only cost you time, they could also cost you your health! One of the most common and often lifelong injuries associated with moving is a strained back. All that heavy lifting and hauling can be rough on the body.
Professional long distance movers, cross country movers and in fact all moving professionals are trained to lift heavy items. Saving a few bucks by going the DIY route might cost you thousands of dollars in health bills down the line.
Another mistake to avoid, is not labelling your items. You don't want to lose valuable fragile items while moving. Labelling your items will help you or other professional movers pack and handle fragile items very carefully.
One last thing, don't take your moving company's word for it. Do some research and ensure they provide you with a well-rounded in-home estimate.